Our largest room sits at the top of the lodge and features a private deck with stunning ocean and mountain views. This room has a queen bed, a day bed and a queen size futon. Numerous windows provide abundant natural light and a nice airy feel. Cable TV, movie library and VCR are available.
Room Rate ▼
Off Season: Nov 1 - Apr 30
Weekdays Rates:
$130.00 per night
Weekend Rates:
$160.00 per night
High Season: May 1 - Oct 31
Weekdays Rates:
$140.00 per night
Weekend Rates:
$180.00 per night
+10% Tax; Weekend includes Fri & Sat; Weekdays Sun-Thurs See bottom of page for rates stipulations
---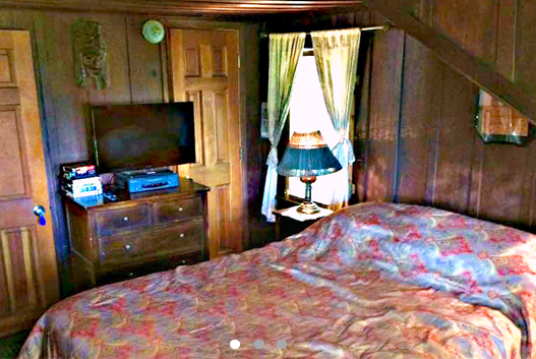 This cozy room features the rustic appeal of solid redwood paneling and has a queen bed and cable TV.
Room Rate ▼
Off Season: Nov 1 - Apr 30
Weekdays Rates:
$110.00 per night
Weekend Rates:
$130.00 per night
High Season: May 1 - Oct 31
Weekdays Rates:
$120.00 per night
Weekend Rates:
$150.00 per night
+10% Tax; Weekend includes Fri & Sat; Weekdays Sun-Thurs See bottom of page for rates stipulations